About roughly eight (8) months ago, I've enlisted ten (10) instagram-worthy floral destinations in Cebu. But over the past few months, it can't be denied that these flower attractions have grown in number. May it be a farm, garden or even a mere ornament, they're all fabulously blooming around Cebu and I thought it's fair to make another listicle and expand the first one.
In general, flowers are strongly evident in holidays and special occasions but in Cebu, to fancy spending a moment amid an astonishing backdrop of variegated beds of flowers – either for business or aesthetics – is a way of life. In fact, colorful blossoms sprouted not only in the scenic and lush mountainscapes of Cebu, but they also "grow" in establishments like cafe, resort and malls. And for the first time ever, I hope this list will optimistically convince you to recognize that Cebu is the "Flower Attraction Capital of the Philippines".
This late October, just in time for All Saints' Day and All Souls' Day, the flower power will take over!
1. Sirao Flower Farm
Let me take you back to the one who started it all – Sirao Celosia Garden – the Mother of all floral destinations in Cebu.
Much have been said or written about this raved flower destination. I mean, who haven't been to or heard of Sirao Flower Garden? Back in the day when there is no distinction yet between Sirao Garden – Mini Amsterdam and Sirao Pictorial Garden and Camping Site, the sea of celosia fields are peacefully flourishing free from public intervention. It started when the flower farm craze spread like wildfire in the social media and netizens flocked into the hillside village of barangay Sirao to relish the beauty of various fiery multi-colored field of celosia.
Akin to the tulip fields of the Netherlands, one can experience the Spring season in Cebu's "Little Amsterdam". In fact, several noticeable features are added like windmills, designed heart-shaped stand-up props and swing stationed in different corners of the flower farm. Burlas (local name of celosia) blooms anew, awaiting to stage your selfies or groufies. From JY Square Mall in Lahug, and take a habal-habal (motorcycle for hire) for PhP 100 per way. Travel time is about 30-35 minutes. Entrance fee is PhP 50 for unlimited photos and PhP 100 for taking videos.
2. 10,000 Roses Cafe
This adorn Korean cafe in Day-as, Cordova is one of the newest floral destinations in Cebu earlier this year. With a vision to create a romantic ambiance, the Korean owner decided to artificially grow 10,000 white LED roses to blanket the front lawn of his little cafe. These plants light up at night offering a majestic view of sea of white roses. Php 20.00 entrance fee will be collected for environmental purposes. To date, 10,000 Roses Cafe continuously draws more tourists and locals every single day.
From SM City Cebu, take a van-for-hire bound for Cordova (fare PhP 35.00). Disembark at Gaisano Grand Mall in Cordova then ride a tricycle for PhP 15-25/pax. Alternatively, commute the Mactan Channel via ferry bound for Lapu-lapu City from Cebu City Pier 1 terminal (fare not more than PhP 15.00).
3. Danao Purple Lilies
What could be an accidental encounter with a sea of fresh purple water lilies is something netizen Deborah didn't think twice of sharing in social media. And we thanked her for that. This uncharted flower attraction, I must say, is so alluring that you'll be lured to get off the couch, avidly head to such floral spot and embrace the beauty of nature. Despite the fact that it is actually a natural swamp free from commercial influence, the scenic view is something worth visiting.
If you're planning to visit this undiscovered beauty, head to Sitio Puwang Yuta Road, Looc, Danao City. From Looc Barangay Hall, ride a "sikad/padyak" or "bike with a sidecar" going to Tuburan Resort for less than Php 10.00.
4. Cambitas Golden Fields
The seemingly endless exhibitions of fabulous flowers are vividly decorating Cebu's lush hillsides along Transcentral Highway. Thankfully, the Golden Fields of Cambitas, Babag II, remains relatively quiet, untouched and authentic.
As of writing, golden flowers now in full bloom. From this vantage point, it looks like a tea plantation in Southeast Asian countries like Malaysia, Indonesia or Vietnam. With a stunning row of green fields sprinkled with golden petals, this floral destination exudes a unique feature worthy of to be included in this list. There's no entrance fee but plucking off flowers is a BIG NO!
5. Buwakan ni Alejandra
Perched in a mountainside in Gaas, Balamban is a colorful flower garden named Buwakan ni Alejandra. Offering a stunning view of more than 200 local botanical species, guests will surely have a wonderful time in basking in its beauty. This is just one of the newly added floral destination in Cebu that is instagram-able and worth visiting in your lifetime. For only Php 50.00 entrance fee, bring your whole family and/or friends to relax, bond and be one with nature.
This newest 700-square-meter tourist attraction in Sitio Bunga is poised about 32 kilometers away from Cebu City, which is accessible by v-hire from Ayala Terminal (Php 120) or private cars. Landmark is near Adventure Cafe.
6. Sibugay Floral Garden
Not known to many is this Chrysanthemum and Baby's Breath plantation in Sibugay, Cebu CIty. With white and pink petals sprouting in the area, this spot is surely an instagrammable floral destination. This is a private garden but you can ask the owner to have a selfie for IG purposes without a fee.
To get to this spectacular floral spot, just ride a habal2x in JY Square and inform the driver to drop you off at Sibugay junction where you can see lots of corn vendors. A 500-meter hike will then be undertaken before you reach this floral garden. Fare is not more than Php 150.00 each.
7.  Malaysian Mum Fields in Malubog
Who would have thought that there exist a garden set in a rolling hills village full of purple malaysian mums? There are many natural wonders in Malubog but this beauty is off the grid. This flower attraction may not be intended for the public viewing but you can definitely take a selfie with the amusing rows of malaysian mums (just ask permission from the plant grower or owner).
If you get a chance to visit this place when the flowers are in full bloom, you'll surely have a magnificent sight to behold before you. To get there, see list #20.
8.) Medellin Valley
Medellin Valley is a charming sugarcane farm showcasing exquisite flowers in full bloom just in time for harvesting. Could this be Cebu's BIGGEST Flower Farm?
As per Instagram star Jack Ponpon (@jak73), it all began when someone commented on one of his videos and requested him and his brother to take some aerial shots of Medellin Valley. With the white, fuzzy flowers of the sugarcanes spreading across the vast lands of the town, you don't wanna miss this once-in-a-blue-moon spectacle. Watch Jack Ponpon's awesome video HERE.
To savor the beauty of the valley, take a bus bound for Daanbantayan via Mainline route (PhP 150) and inform the driver to drop you off at the crossing in Barangay Curva, with the heritage tree as landmark. From the high way, going to the sugarcane plantation is just a walking distance.
9. Ogtong Cave Resort
Walling in a bougainvillea-hedge wall 'coz why not? If you want to see and take a selfie in this instagrammable floral spot, then head to Ogtong Cave Resort in Bantayan Island, Cebu. The bougainvillea blooms in its full glory during March to May and be stunned with its lovely colors ranging from white, pink and pale red.
From Cebu City, catch a bus or van in Cebu North Terminal going to Hagnaya Port in the town of San Remegio (PhP 160) or Ceres bus direct to Bantayan town proper via Sta. Fe. (PhP 200). Travel time is 3 – 4 hours. From Hagnaya's Port you'll hop a 45-min. ferry boat (PhP 170 fare + PhP 10 terminal fee) to Santa Fe, Bantayan Island.  Tricycle (PhP 25/person fare) can take you from Sante Fe port going to Ogtong
10. Robinsons Galleria
This flower attraction is unique among the list since it is not a natural garden to begin with. Nevertheless, it draws an influx of mall-goers and offers a medium to have the visitors' selfies taken, thus worthy to be included in this round up of 25 fabulous flower spots in Cebu.
One of the iconic symbols of Cebu is a guitar, however Robinsons Galleria has taken its aesthetics to the next level. Imagine a gigantic 25-foot guitar decorated with various flowers in yellow, red and orange installed inside a shopping complex and you'll get a majestic flower guitar. This popular flower guitar is erected just near Robinson's Galleria's entrance and captures an ambiance of an outdoor oasis, but equally showcases a vibrant indoor landscape. Robinsons Galleria Cebu is strategically located along General Maxilom Avenue in North Reclamation Area, Cebu City.
11. Wonder White Flower Garden
It's not everyday that you'll see a scenario wherein a flower farmer makes way toward several rows of white flowers, his face was infused with joy, and carefully cuts his first dozen of blooms. The owner himself was participative enough to have his picture taken while gallantly carrying his newly-harvested cut flowers before selling it in the market.
In this quaint mountainside village of Cebu, wonder white blossoms proudly thrust their heads up to the sky between plots of Wonder Fields as more flower farmers come to harvest flowers to meet peak demand in the observance of the Day of the Faithful Departed.
12. Terrazas de Flores
There's a new place in Cebu City wherein you can have a relaxing view of 127 identified species of flora. Privately owned by a father of three, Terrazas de Flores has been developed as a symbol of a father's love to his children. This 2 hectares botanical garden terraces offers exquisite view and a unique feeling of being one with nature. The terraces is scrupulously landscaped and supported by interlocked rocks with each row being planted with a local species of flora (either indigenous or adapted). Displayed on every corner are the corresponding label of each plant, identification of which is made in collaboration with University of San Carlos – Biology Department. Café, cabanas, CR and parking area are likewise available in the vicinity. Entrance fee is Php 100.
Don't miss in visiting the Philippines' ONLY Botanical Field in Terraces! Private car or habal-habal can access Terrazas de Flores at Tiguib, Malubog, Cebu City (few meters past La Tegola).
13. Betty's Botanical Garden
Feeling the urge to affiliate with nature? Embrace your biophilia and head to Betty's Botanical Garden. This 6-hectare floral farm is located in the hinterlands of Cantipla that boasts various flowers and plants which are produced organically. There are a lot of pine trees in the area, as well as wild flowers such as pitcher plant and hydrangea. Overlooking Camotes Island and panoramic view of Tabunan forest, the place is naturally cool, perfect retreat for a hot summer day.
From Ayala Center Cebu Terminal, ride a v-hire for PhP 120. You'll have scenic ride for 45 minutes along Transcentral highway before arriving at the jump off point (Barangay Cantipla). Get off the van once you have this signage in sight "Welcome to Cantipla/ Tabunan Integrated Sch)" and from there, you can hike your up or ride a habal-habal going to Betty's Botanical Garden.
14.) La Vie Parisienne
La Vie Parisienne is a French bakery & wineshop conveniently located in Lahug that captures the heart of most Cebuanos and tourists. It is notable for its artificial pink tree resembling cherry blossom trees that brightens up the night while you spend quality moment with your companions. Offering dozens of choices from breads, pastries, pizzas, cheeses and wine, it is without a doubt an ideal place to chill and have a great photo session with friends and families.
It is note-worthy to mention that most of the floral destinations' artificial setting could be inspired by La Vie Parisienne's light-up LED flowers. Visit them at 371 Gorordo Avenue, Lahug, Cebu City.
15. Sibonga Plaza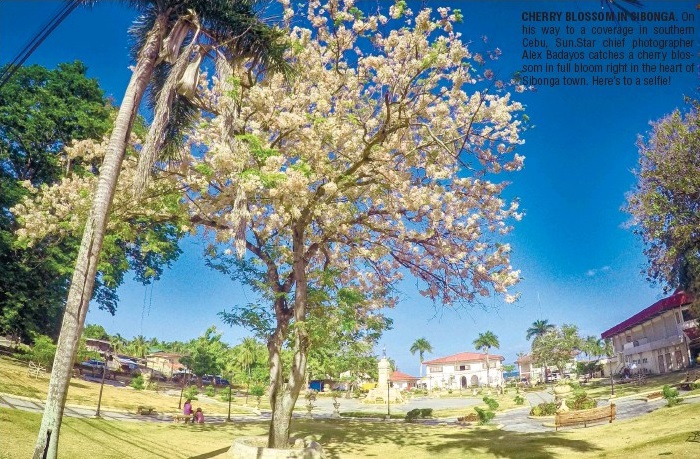 If you want to witness a real-life cherry blossoms without the need to go to Japan, then head to Sibonga Poblacion. Right at the corner of Sibonga town plaza (2.5km before Simala Shrine), cherry blossoms or Sakura trees can be found. During April to May, one can marvel at the blooming beauty of Palawan local cherry akin to Japan's snow-white pinkish national flower.
From Cebu City South Bus Terminal, there are lots of mini buses that will go directly to Simala, costing Php 100 for a trip of not more than 3 hours. Alternatively, you may take a van at Sanciangko for the same amount for a more comfortable and faster ride.
16. Liza's Little Garden
Cordova is home yet again to a new garden of LED roses, but this time it is RED. Around 2,000 LED (light-emitting diode) red roses have "bloomed" in Cordova, Cebu, an added attraction to the town after the famed 10,000 LED white roses went viral online.  The LED red roses can be found in Cordova Home Village, a resort in Bantayan Road, Sitio Datag and is actually electronically planted just 2 kms away from the 10,000 Roses Cafe.
From SM City Cebu, take a van-for-hire bound for Cordova (fare PhP 35.00). Disembark at Gaisano Grand Mall in Cordova then ride a tricycle for PhP 15-25/pax. Alternatively, commute the Mactan Channel via Metroferry bound for Lapu-lapu City from Cebu City Pier 3 terminal (fare for adult PhP 14.00, student Php 12.00).
17. Malubog Rose Garden
If you're not a fan of red LED roses, then you may head to Malubog for a real one.
My adventure buddies and I are descending from the great Sirao Peak via Malubog Trail and this rose garden caught our attention. Although at that moment it was not yet in full bloom, I knew then it will be a perfect spot to stage an instagrammable shot. This floral destination is not open to the public just like some of the flower farm featured in this list but you may take a photo for IG purposes but make sure not to ruin it by laying in the natural bed of roses.
18. Coal Mountain, Argao
Tucked away in the mountainside of Argao is a mountain resort that offers a tranquil place for those who are planning to take a refuge from the mugginess of the Metro. Coal Mountain Resort is situated in a chilly place amid a lush scenery of rugged mountain ranges of Southern Cebu and is perfect for a fun weekend escapade for families and friends.
Coal Mountain Resort has grown lots of beautiful flowers around the resort such as dancing lady orchids, euphorbia and many more local flora. As Gly Gly puts it "What I love in this resort is the variety of flowers where your eyes can feast upon". In this highland floral destination, you'll surely ignite your biophilia and enjoy a stress-free weekend. See more photos and tips on the direction here: Coal Mountain Resort
19. Montebello Villa Hotel
This floral destination is a fusion of business and leisure under the spell of lush nature and quaint landscaped gardens. Marvel at various flower spots like the water lilies under the bridge, the creeping vine with white flowers in the patio and the colorful bougainvilleas adding natural feature at the edge of its swimming pool area.
Dubbed as the only garden hotel at the heart of a bustling Metro Cebu, you'll never go wrong with Montebello Villa Hotel. Boasting a rich Hispanic heritage with an enchanting 4-hectare hacienda, it offers a quick and easy escape from the confines of Cebu's hurly burly. This garden hotel is located in Gov. M. Cuenco Ave, Apas, just within a 5-minute walk from Gaisano Country Mall in Banilad.
20.) TIEZA Botanical Garden
TIEZA Botanical Garden is a natural waterscape abounded by celosia flowers. One can do YOLO-ing by the picturesque natural pool while marveling at the famous Sirao Peak in its backdrop. The view and experience is just exquisite, perfect for a "me" time. If you want a quick getaway in a scenic floral destination that is near the city, yet away from its hurly-burly, then just hail a habal2x in JY Square and tell the driver that you are heading to Malubog Lake or Kan-irag old golf course. You can see Busay Holiday Pool in the highway and then turn right. Fare is not more than P100 per person, one way.
ALSO READ: TIEZA Botanical Garden: Scenic Garden by the Lake
21. Cebu Safari
Walk down the aisle or sit in the corner ~ whatever you prefer, you'll surely be visually delighted with the presence of more than a hundred lovely orchids. This orchid garden is just one of the attractions in Safari Resort, an ongoing 100-hectare development in Carmen Cebu, owned by the Lhuilliers. Aside from this floral spot, one can encounter zoo animals up close in this wildlife sanctuary as it will showcase some of the popular Safari circuit residents (e.g., lion, zebra, camel, giraffe, tiger, etc). Slated to open to the public  this 2017.
Minibuses or jeepneys are available in Sun Gold, in front of SM Cebu, for (PhP 40–50). Alight at Nacional, the third street from Super Metro Store in Carmen, wherein you'll see the billboards of Shemberg Biotech Corporation and St. Benedict's Monastery. Habal-habal is available for PhP 30 per person leading you to Hacienda M. Lhuillier (southwest of Durano Eco Farm).
22. Lava Mountain River Farm
Featured in my article on 25 Exquisite Infinity Pools in Cebu, Lava Mountain River Farm is actually home to some exotic flowers that can be a great spot for your next profile photo. Those flowers (or grass for that matter) are pretty much normal and are usually taken for granted but for the creative soul like fine art photographer Christine, she made it look charming, giving a striking contrast to the subject. And the results are insanely stunning!
Aside from its infinity pool and traditional setting, Lava Mountain River Farm offers a private retreat wherein you can experience life at its fullest.  This place is isolated in the mountain valleys of Bonbon, Cebu City where the flower growers and vegetable farmers are also based.
23. Palanas by the Beach
Being the only seaside resort in the list, this flower spot right here is definitely a breather! While all other flowers are growing up, this could be the exception – hanging down. The upside-down-flower-decorated ceiling is actually located in the dining area of Palanas by the Sea and I bet the setting is so gorgeous.
True to the resort's mission statement, Palanas by the Sea provides a comfortable and relaxing place for recreation and large group gatherings like reunions, weddings, parties, and other occasions. See ramblingcoffeeholic's review here: Palanas by the Sea Experience
24.  Taptap Initlog Fields
If you're into a different kind of City Tour in Cebu for one day, try flower spots hopping!
This flower fields of Initlog is one of the few gems hidden in the lush mountainside of barangay Taptap in Cebu City. The Initlog flowers bloom all throughout the year but increased its supply during special occasions like Valentine's Day and All Saint's Day. This was the last floral destination that I've visited in my recently concluded flower spots hopping in Cebu but it never failed to soothe me with its positive energy. If interested, contact habal(2x) driver Medcel via mobile 0917-945-2770 for a very affordable package.
25. City Times Square II
This is the last, definitely not the least, and the latest among the above listed flower attractions in Cebu. City Time's Square's garden of 2,000 glowing white roses now in full bloom, awaiting to stage your selfies! The newest flower spot guarantees flourescent feels and romantic vibe with no entrance fee.
Full blog here:  2,000 White Roses Garden: Full Bloom in City Times Square II
Responsible Tourism
No matter how beautiful the place is, if the people visiting it are irresponsible or without regards to the property being visited, then its tourism activities cannot be sustained. Due to the untoward incidents that wreak havoc to some floral attractions in Cebu (e.g., Sirao Flower Garden and 10,000 Roses Cafe), the issue on "Responsible Tourism" has come to light. This is to remind every tourist when visiting a tourist spot to respect the place and consume tour activities in a more responsible way so that a healthy relationship will be created by making better places for people to live in and better places for people to visit.
Sustainability principles defined "Responsible Tourism" as a practice of doing business by attracting, accommodating, and entertaining people who travel which aims to minimize negative social, economic and environmental impacts, generate greater economic benefits for local people and enhance the well-being of host communities. In other words, it encourages respect between tourists and hosts, and builds local consensus and confidence for a sustainable future.
Wherever you go, may you be guided by the "Leave No Trace" Principle, to wit: "Take nothing but pictures. Leave nothing but footprints. Kill nothing but time." Mother Earth's natural creation or man-made attractions are not ours to destroy so better respect and preserve the place and exercise responsible tourism. And more importantly, spread the love by giving not just flowers but the opportunity to improve your mood and health by visiting 25 fabulous "flotion" (floral destination or flower attraction) in Cebu all-year round.
Do you know of a flower attraction in Cebu not listed above? Do you have a fave floral spot you wish to visit soon? Share your thoughts in the comment section below. For more tourist destinations in Cebu, follow my Facebook Page https://www.facebook.com/vivomigsgeeblog/ and Instagram @vivomigsgee.